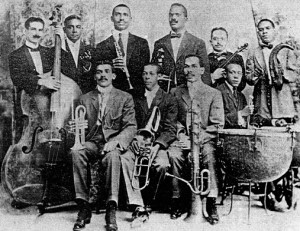 Mambo, Danzon and Chachacha have in common that they all originate from Cuba, and are either directly derived from or influenced by Son rythm, sound and dance, which (according to Wikipedia) "combines the structure and elements of Spanish canción and the Spanish guitar with African rhythms and percussion instruments of Bantu origin".
This compilation (80 tracks), even if some titles overlap with the content of "Lo Mejor del Cha Cha Cha – Heken DJ" or "Los Grandes Exitos del Mambo – Lobo DJ" is a very coherent and entertaining playlist! Retro and deliciously danceable! <3
bought for 10 Pesos (approx 0.6€) Near CU in Mexico D.F., Mexico.
Not quite random playlist:

Track Listing:
01 intro danzon ,mambo y cha cha cha.mp3
02 Mambo No.5 (mambo).mp3
03 nereidas (danzon).mp3
04 las clases del cha cha cha (cha,cha,cha).mp3
05 Mambo No.8 (mambo).mp3
06 juarez (danzon).mp3
07 el chivirico (cha,cha,cha).mp3
08 Mambo Universitario (mambo).mp3
09 mocambo (danzon).MP3
10 los marcianos (cha,cha,cha).mp3
11 La Raspa (mambo).mp3
12 caldo de oso (danzon).mp3
13 rico vacilon (cha,cha,cha).mp3
14 Mambo del Politécnico (mambo).mp3
15 salon mexico (danzon).MP3
16 el mandarin (cha,cha,cha).mp3
17 Mama Yo Quiero (mambo).mp3
18 acayuca (danzon).MP3
19 maletero (cha,cha,cha).mp3
20 mambo latino (mambo).mp3
21 el arete (danzon).MP3
22 los cadetes (cha,cha,cha).mp3
23 Mambo del Ruletero (mambo).mp3
24 minatitlan (danzon).MP3
25 el bodeguero (cha,cha,cha).MP3
26 Mambo Del Taconazo (mambo).mp3
27 pulque para dos (danzon).mp3
28 el limpia botas (cha,cha,cha).MP3
29 la pantera mambo (mambo).mp3
30 zacatlan (danzon).MP3
31 la basura (cha,cha,cha).mp3
32 Mambo En Trompeta (mambo).mp3
33 tampico (danzon).mp3
34 la sitiera (cha,cha,cha).mp3
35 Mambo Jambo (Que Rico el Mambo) (mambo).mp3
36 rigoletitito (danzon).MP3
37 la bola (cha,cha,cha).mp3
38 Mambo Numero 5 (mambo).mp3
39 almendra (danzon).MP3
40 señor juez (cha,cha,cha).mp3
41-mambo 5 – Lou Bega (mambo).mp3
42 caballo negro (danzon).MP3
43 sabrosona (cha,cha,cha).mp3
44 Que Rico el Mambo (mambo).mp3
45 el manicero (danzon).MP3
46 cachita (cha,cha,cha).MP3
47 the mask ( la mascara) (mambo).mp3
48 el 13-20 (danzon).MP3
49 este si no para (cha,cha,cha).MP3
50-al compaz del mambo – perez prado (mambo).mp3
51 kid azteca (danzon).mp3
52 el apagon (cha,cha,cha).MP3
53 Lupita (mambo).mp3
54 quiereme mucho.MP3
55 amalia batista (cha,cha,cha).mp3
56 Maria Cristina (mambo).mp3
57 ninon sevilla.mp3
58 calculadora (cha,cha,cha).mp3
59 La Borrachita (mambo).mp3
60 mexico de noche.mp3
61 la busa azul (cha,cha,cha).mp3
62 Pachuco Bailarín (mambo).mp3
63 lo pagaras con dios (danzon).MP3
64 los bomberos (cha,cha,cha).mp3
65 Rico Caliente Y Sabroso (mambo).mp3
66 monta mi caballo (danzon).mp3
67 silencio (cha,cha,cha).mp3
68 Rompiendo El Piano (mambo).mp3
69 desden (danzon).mp3
70 vel desfile (cha,cha,cha).mp3
71 Yes Sir, That's My Baby (mambo).mp3
72 amor indio (danzon).mp3
73 corazon de melon-ramon marquez (cha,cha,cha).mp3
74 Tomcat Mambo (mambo).mp3
75 aventurera (danzon).MP3
76 la comparsa (cha,cha,cha).MP3
77-la cocaleca (mambo).mp3
78 para elisa (danzon).MP3
80-batirica (mambo).mp3
80 yo tengo una muñeca (cha,cha,cha).MP3