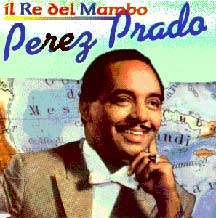 Mambo is this improbably jazzy and fun mélange of european colonial sounds through amazing musical skills. It seems to be a very dancefloor-oriented rythm and music. Quite close to the amazing Cha cha cha! Mambo loco! uW! Ayayay! <3 According to Wikipedia:
« Mambo is a musical form and dance style that developed originally in Cuba, with further significant developments by Cuban musicians in Mexico and the USA. The word "mambo" means "conversation with the gods" in Kikongo, the language spoken by Central African slaves taken to Cuba.
Modern mambo began with a song called "Mambo (1938 song)" written in 1938 by brothers Orestes and Cachao López. The song was a danzón, a dance form descended from European social dances like the English country dance, French contredanse, and Spanish contradanza. It was backed by rhythms derived from African folk music. »
This short (70 tracks) compilation features Perez Prado, Tito Puente y mucho mas (but despite it being advertised on the cover, only one track from Orquesta Aragon, heard on the amazing Cha Cha Cha compilation Lo Mejor del Cha Cha Cha – Heken DJ (mp3)!).
Amazing stuff edited by Lobo DJ (Lobo DJ, "Seguimos evolucionando y causando envidias… Produciones Lobo DJ 2013").
bought for 10 Pesos (approx 0.6€) probably at the marcado Copilco or CU in Mexico D.F., Mexico.
Not-so-random playlist:




Track Listing:
01 intromix lobo.mp3
02 mambo no. 8 – perez prado.mp3
03 el bodeguero – orquesta aragon.mp3
04 mama yo quiero – perez prado.mp3
05 mambo con cha cha cha – roberto falaz.mp3
06 mambo no. 5 – perez prado.mp3
07 mambo de la pinto – art pepper.mp3
08 mambo lupita – perez prado.mp3
09 mambo rumbon – tito puente.mp3
10 besito de coco – celio gonzalez.mp3
11 el guayabo de catalina – manolin more.mp3
12 te di un beso sin importancia – celeste mendoza.mp3
13 el mambo la merced – perez prado.mp3
14 me lo dijo adela – bobby campo.mp3
15 el rey del timbal – tito puente.mp3
16 ritmo de berruga – oriental orquesta.mp3
17 españa en llamas – riverside orquesta.mp3
18 oboe mambo – machito y su faro.mp3
19 la mascara – jim carey.mp3
20 mi son changui – oriental orquesta.mp3
21 mambo del politecnico – perez prado.mp3
22 ran kan kan – tito puente.mp3
23 mambo no. 5 – lou bega.mp3
24 que rico mambo – perez prado.mp3
25 mambo universitario – perez prado.mp3
26 ponte en la bola – manolin morel.mp3
27 el mambo es universal – daniel santos.mp3
28 pachuco bailarin – perez prado.mp3
29 maria cristina – perez prado.mp3
30 me miraste y me mire – machito y su afro.mp3
31 rico,caliente y sabroso – perez prado.mp3
32 mambo rama – tito puente.mp3
33 el mantequero – cortijo.mp3
34 mambo del taconazo – perez prado.mp3
35 up and down mambo – tito puente.mp3
36 zambele – sonora matancera.mp3
37 mambo en sax – perez prado.mp3
38 el pescador – wilfredo figuera.mp3
39 mambo de la pinto – art pepper.mp3
40 la raspa – perez prado.mp3
41 mambo pide la gente – daniel santos.mp3
42 mambo azul – joe loco.mp3
43 mambo del ruletero – perez prado.mp3
44 el guayabo de catalina – manolín morel.mp3
45 camina camarón – tito puente.mp3
46 mambo a la kenton – perez prado.mp3
47 saoco – ismael rivera.mp3
48 me miraste y te miré – machito Y su afro.mp3
49 cucara,cha cha cha – perez prado.mp3
50 españa en llamas – riverside orquesta.mp3
51 simpre sea – joe loco.mp3
52 mambo del futbol – pèrez prado.mp3
53 te di un beso sin importancia – celeste mendoza.mp3
54 cachondea – cheo feliciano.mp3
55 el negro zumbon – perez prado.mp3
56 el rey del timbal – tito puente.mp3
57 besito de coco – sonora matancera.mp3
58 mama yo quiero – perez prado.mp3
59 felicidades – joe valle.mp3
60 mambo no.2 – george shearing.mp3
61 moliendo cafe – perez prado.mp3
62 oboe mambo – machito Y su afro.mp3
63 mi son changui – oriental orquestra.mp3
64 la farahona – perez prado.mp3
65 el mambo es universal – daniel santos.mp3
66 mambo tipico – tito puente.mp3
67 tico tico – perez prado.mp3
68 quien sera – casion conjunto.mp3
69 fantasía no 3 – josé luis moneo.mp3
70 alma llanera – perez prado.mp3
71 aguantando – bobby pauneto.mp3