100% CDR, 100% Colombiana, 100% vintage!
Musica Colombiana de Exportacion is a very interesting double compilation:
* The first, "MUSICA COLOMBIANA DE EXPORTACION" is a charming compilation of antique traditional Colombian music, with a strong colonial/European influence.
* The second, "PORROS CUMBIAS GAITAS" contains a great selection of antique Cumbias, Porros and Gaitas. Much more danceable, african-influenced, rythms. (note how some Gaitas sound surprisingly similar to Balkanic sounds!)
Bought for 2.000 pesos (1US$) in the street (Carrera8) in Bogota.
<3 [caption id="attachment_80" align="alignleft" width="600"]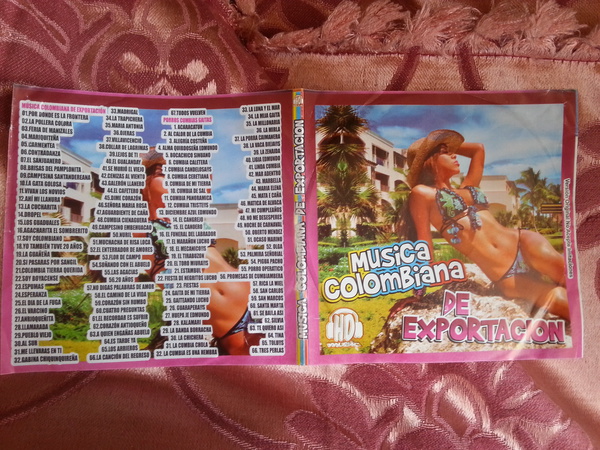 Musica_Colombiana_de_Exportacion[/caption]



Track list:
MUSICA COLOMBIANA DE EXPORTACION
Musica_Colombiana_de_Exportacion.jpg
PORROS CUMBIAS GAITAS
Musica Colombiana de Exportacion/MUSICA COLOMBIANA DE EXPORTACION:
01.mp3
02.mp3
03.mp3
04.mp3
05.mp3
06.mp3
07.mp3
08.mp3
09.mp3
10.mp3
11.mp3
12.mp3
13.mp3
14.mp3
15.mp3
16.mp3
17.mp3
18.mp3
19.mp3
20.mp3
21.mp3
22.mp3
23.mp3
24.mp3
25.mp3
26.mp3
27.mp3
28.mp3
29.mp3
30.mp3
31.mp3
32.mp3
33.mp3
34.mp3
35.mp3
36.mp3
37.mp3
38.mp3
39.mp3
40.mp3
41.mp3
42.mp3
43.mp3
44.mp3
45.mp3
46.mp3
47.mp3
48.mp3
49.mp3
50.mp3
51.mp3
52.mp3
53.mp3
54.mp3
55.mp3
56.mp3
57.mp3
58.mp3
59.mp3
60.mp3
61.mp3
62.mp3
63.mp3
64.mp3
65.mp3
66.mp3
67.mp3
Musica Colombiana de Exportacion/PORROS CUMBIAS GAITAS:
01acaracatun.mp3
02al calor de la cumbia.mp3
03alegría costeña.mp3
04alma quibdoseña edmundo.mp3
05bocachico sinuano.mp3
06cumbia caletera.mp3
07cumbia candelosa!!s.mp3
08cumbia ceretiana.mp3
09cumbia de mi tierra.mp3
10cumbia de sal.mp3
11cumbia panoramica.mp3
12cumbia triste!!s.mp3
13diciembre azul edmundo.mp3
14el cangrejo.mp3
15el canoero.mp3
16el funeral del labrador.mp3
17el marañon lucho.mp3
18el mecanico!!s.mp3
19el tirabuzon.mp3
20el toro miura!!s.mp3
21estambul.mp3
22fiesta de negritos lucho.mp3
23fiestas.mp3
24gaita de mi tierra.mp3
25gaiteando lucho.mp3
26guarapera!!s.mp3
27huepa je edmundo.mp3
28kalamari.mp3
29la banda borracha.mp3
30la chichera.mp3
31la cumbia chola.mp3
32la cumbia es una hembra.mp3
33la luna y el mar.mp3
34la mija gaita.mp3
35la millonaria.mp3
36la mirla.mp3
37la porra caimanera.mp3
38la vaca bieja!!s.mp3
39la zenaida.mp3
40ligia edmundo.mp3
41linda cumbia.mp3
42mar adentro.mp3
43marbella.mp3
44maria elena.mp3
45mata e caña.mp3
46matica de alvaca.mp3
47mi cumpleaños.mp3
48no me desesperes.mp3
49noche de carnaval.mp3
50oberto mendez.mp3
51ocaso marino.mp3
52olga.mp3
53palmira señorial.mp3
54pigua pacho.mp3
55porro operatico.mp3
56promesas de cumbiambera.mp3
57rica la miel.mp3
58san carlos.mp3
59san marcos.mp3
60santa marta.mp3
61se baila asi.mp3
62silvia.mp3
63te quiero asi.mp3
64tina.mp3
65tolu!!s.mp3
66tres perlas.mp3