100% CDR, 100% Colombia, 100% vintage Datalove!
More Vallenatos, from Colombian Carribean region!
Rafael Escalona was recommended to me by the hyper-knowledgeable/adorable lady selling CDRs in the music/movie mall of Calle7 in Bogota as a godfather of Vallanato. I was right to trust her!
Rafael Escalona sounds like such a sweet dude! His music is the perfect mix between latin and carribean. Goes well with some nice rhum (cachaça artisanal feito com amor would do as well..)! Very nice accordeon-powered compilation (99 tracks)!
Found for 2.000 Pesos (1 US$) in Bogota?
<3 Teaser Playlist: [playlist ids="202,199,198,200,201"] [caption id="attachment_197" align="alignleft" width="600"]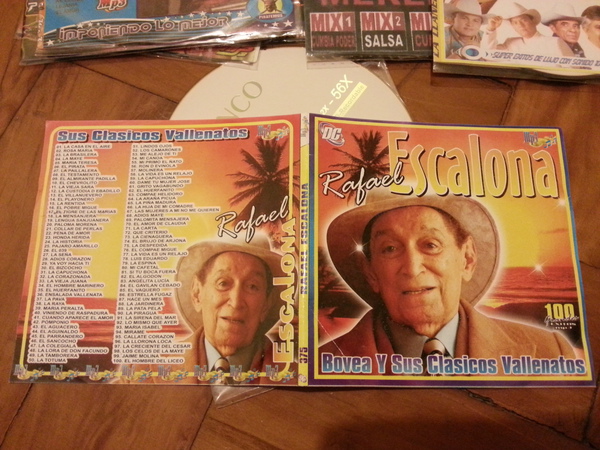 Rafael Escalona – Bovea y sus Classicos Vallenatos[/caption]
Track list:
01 LA CASA EN EL AIRE.mp3
02 ROSA MARIA.mp3
03 -la brasilera.mp3
04 a maye.mp3
05 -maria tereza.mp3
06 el pirata.mp3
07 -la paillalera.mp3
08 el testamento.mp3
09 el almirante padilla.mp3
10 -el chevrolito.mp3
11 -la vieja sara.mp3
12 -la custodia d ebadillo.mp3
13 -el villanuevero.mp3
14 el playonero.mp3
15 la rentida.mp3
16 -el pobre migue.mp3
17 -el tigre de las marias.mp3
18 la mensanjera.mp3
19 -lengua sanjuanera.mp3
20 PALOMA MORENA.mp3
21 colar d eperlas.mp3
22 -pena de amor.mp3
23 -honda herida.mp3
24 -la historia.mp3
25 pajaro amarillo , bovea.mp3
26 el 039, bovea.mp3
27 LA.SEÑA – Bovea y sus vallenatos -.MP3
28 adios corazon, bovea.mp3
29 ya voy hacia ti ,bovea.mp3
30 EL BIZCOCHO.mp3
31 LA CAPUCHONA.mp3
32 LA CORAZONADA.mp3
33 LA VIEJA JUANA.mp3
34 el hombre marinero.mp3
35 el uerfanito.mp3
36 ensalada valenata.mp3
37 la pava.mp3
38 la raya.mp3
39 maria peralta.mp3
40 viniendo de raspadura.mp3
41 cuando aparece el amor.mp3
42 pomponio.mp3
43 el aguacero.mp3
44 el aguinaldo.mp3
45 el parrandero.mp3
46 el sancocho.mp3
47 la colegiala.mp3
48 la lora de don facundo.mp3
49 la tamborera.mp3
50 la totuma.mp3
51 lindos ojos.mp3
52 los camrones.mp3
53 me alejo de ti.mp3
54 mi canoa.mp3
55 mi primo el ñato.mp3
56 MOLINERA.mp3
56 -RON D EVINOLA.mp3
58 -LA VIDA E SUN RELAJO.mp3
59 -LA CAPUCHONA.mp3
60 -DAME TU MUJER JOSE.mp3
61 -GRITO VAGABUNDO (2).mp3
62 -EL HUERFANITO (2).mp3
63 -COMPAE HELIDORO (2).mp3
64 -LA ARAÑA PICUA (2).mp3
65 -la piña madura (2).mp3
66 -la hija d emi comadre (2).mp3
67 -las mujeres a mi no me quiren (2).mp3
68 adios maye (2).mp3
69 -palomita mensajera (2).mp3
70 -el amor d eclaudia (2).mp3
71 -la carta (2).mp3
72 -que criterio (2).mp3
73 -la cienaguera (2).mp3
74 -el brujo de arjona (2).mp3
75 -la despedida (2).mp3
76 el compae migue (2).mp3
77 LA VIDA ES UN RELAJO (2).mp3
78 – luis eduardo (2).mp3
79 la espina (2).mp3
80 mi_cafetal (2).mp3
81 si tu boca fuera (2).mp3
82 a el algodon (2).mp3
83 angélita lucía (2).mp3
84 el gavilan cebado (2).mp3
85 – el vaquero (2).mp3
86 estrella fugaz (2).mp3
87 – hace un mes (2).mp3
88 la jardinera (2).mp3
89 la pata pela443(2) (2).mp3
90 – la piragua217 (2).mp3
91 – la sirena del mar(2) (2).mp3
92 – lo mismo que ayer (2).mp3
93 maria isabel (2).mp3
94 mirame (2).mp3
95 – callate corazon (2).mp3
96 la llorona loca (2).mp3
97 LA CRECIENTE DEL CESAR (2).mp3
98 LOS CELOS DE LA MAYE (2).mp3
99A – carlos vives – el hambre del liceo(2) (2).mp3
99 Jaime Molina (2).mp3