This post about Brazil is NOT related to whatever ongoing spectacle/sport/advertisement event.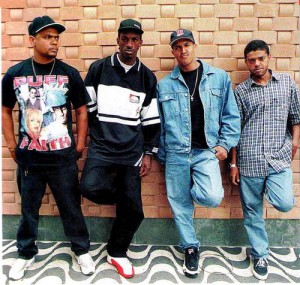 Although mp3 compilations burnt CDRs I found in the streets of Brazil were less interesting, because much less edited and personal than the amazing pieces found in Ecuador, Colombia and Mexico, and mostly amounting to compilations of existing records or full discographies, it is still notable how widespread this format is all around the continent.
Racionais MC's is probably one of the most important hiphop groups of Brazil, active since 1988. Their very dark and implacable style, as well as their progression from oldschool to more modern and mainstream sounds reminds me of the French NTM (and their amazing albums from 91 and 93!).
This compilation (118 tracks) is supposed to be their full discography, actualized in 2013.
A very nice hiphop compilation, very cool Brazilian sound! <3
bought for 5 Reals (1.6€) cerca Galeria do Rock en São Paulo, Brazil.
Playlist made with datalove:

Track Listing:
1000 trutas 1000 tretas
1990 – Holocausto Urbano
1998 – Sobrevivendo No Inferno
2001 – Ao Vivo
2003 – Racionais MC'S – RDS
2012-CORES E VALORES-Novo disco
2013-RACIONAIS-THA´S MY WAY-
Nada Como Um Dia Após O Outro Dia (Chora Agora)
Nada Como Um Dia Após O Outro Dia (Ri Depois)
RACIONAIS 2008
Ta na chuva
./1000 trutas 1000 tretas:
01 Fórmula Mágica da Paz.mp3
02 Negro Drama.mp3
03 Tô Ouvindo Alguém me Chamar.mp3
04 Crime Vai e Vem.mp3
05 Da Ponte Prá Cá.mp3
06 Expresso da Meia Noite.mp3
07 Eu Sou 157.mp3
08 Diário de um Detento.mp3
09 A Vida é Desafio.mp3
10 1 Por Amor 2 Por Dinheiro.mp3
11 Vida Loka (Parte 1).mp3
12 A Vítima.mp3
13 Jesus Chorou.mp3
14 Vida Loka (Parte 2).mp3
./1990 – Holocausto Urbano:
01-Pânico na Zona Sul.mp3
02-Beco Sem Saida.mp3
03-Hey Boy.mp3
04-Mulheres Vulgares.mp3
05-Racistas Otarios.mp3
06-Tempos Dificeis.mp3
./1998 – Sobrevivendo No Inferno:
01 – Jorge da Capadócia.mp3
02 – Gênesis (Intro).mp3
03 – Capítulo 4, Versículo 3.mp3
04 – To Ouvindo Alguém Me Chamar.mp3
05 – Rapaz Comum.mp3
06 – _ _ _ _.mp3
08 – Periferia é Periferia (Em Qualquer Lugar).mp3
09 – Qual Mentira Vou Acreditar.mp3
10 – Mágico de OZ.mp3
12 – Salve.mp3
./2001 – Ao Vivo:
01 – Brown (Fala 1).mp3
02 – Abertura.mp3
03 – Capítulo 4 Versículo.mp3
04 – Qual Mentira Vou Acreditar.mp3
05 – Ice Blue (Fala).mp3
06 – Lenta.mp3
07 – Tô Ouvindo Alguém Me Chamar.mp3
08 – Edi Rock (Fala).mp3
09 – Mágico De Oz.mp3
./2003 – Racionais MC'S – RDS:
01 – Fim De Semana No Parque.mp3
02 – Parte II.mp3
03 – Mano Na Porta Do Bar.mp3
04 – Homem Na Estrada.mp3
05 – Júri Racional.mp3
06 – Fio Da Navalha.mp3
07 – Voz Ativa.mp3
08 – Negro Limitado.mp3
09 – Pânico Na Zona Sul.mp3
10 – Hey Boy.mp3
11 – Mulheres Vulgares.mp3
12 – Racistas Otarios.mp3
./2012-CORES E VALORES-Novo disco:
01 – CORES E VALORES – Trilha sem identificação 1.mp3
02 – CORES E VALORES – Trilha sem identificação 2.mp3
03 – CORES E VALORES – Trilha sem identificação 3.mp3
04 – CORES E VALORES – Trilha sem identificação 4.mp3
05 – CORES E VALORES – Trilha sem identificação 5.mp3
06 – CORES E VALORES – Trilha sem identificação 6.mp3
07 – CORES E VALORES – Trilha sem identificação 7.mp3
08 – CORES E VALORES – Trilha sem identificação 8.mp3
09 – CORES E VALORES – Trilha sem identificação 9.mp3
10 – CORES E VALORES – Trilha sem identificação 10.mp3
11 – CORES E VALORES – Trilha sem identificação 11.mp3
12 – CORES E VALORES – Trilha sem identificação 12.mp3
13 – CORES E VALORES – Trilha sem identificação 13.mp3
14 – CORES E VALORES – Trilha sem identificação 14.mp3
./2013-RACIONAIS-THA´S MY WAY-:
01 – RACIONAIS – Trilha sem identificação 1.mp3
02 – RACIONAIS – Trilha sem identificação 2.mp3
03 – RACIONAIS – Trilha sem identificação 3.mp3
04 – RACIONAIS – Trilha sem identificação 4.mp3
05 – RACIONAIS – Trilha sem identificação 5.mp3
06 – RACIONAIS – Trilha sem identificação 6.mp3
07 – RACIONAIS – Trilha sem identificação 7.mp3
08 – RACIONAIS – Trilha sem identificação 8.mp3
10 – RACIONAIS – Trilha sem identificação 10.mp3
11 – RACIONAIS – Trilha sem identificação 11.mp3
12 – RACIONAIS – Trilha sem identificação 12.mp3
./Nada Como Um Dia Após O Outro Dia (Chora Agora):
01 – Sou + Você.mp3
02 – Vivão E Vivendo.mp3
03 – V.L. (Intro).mp3
04 – V.L. Parte 1.mp3
05 – Negro Drama.mp3
06 – A Vítima.mp3
07 – Na Fé Firmão.mp3
08 – 12 De Outubro.mp3
09 – Eu Sou 157.mp3
10 – A Vida É Desafio.mp3
11 – 1 Por Amor 2 Por Dinheiro.mp3
./Nada Como Um Dia Após O Outro Dia (Ri Depois):
01 – De Volta À Cena.mp3
02 – Otus 500.mp3
03 – Crime Vai E Vem.mp3
04 – Jesus Chorou.mp3
05 – Fone (Intro).mp3
06 – Estilo Cachorro.mp3
07 – V.L. Parte 2.mp3
08 – Expresso Da Meia-Noite.mp3
09 – Trutas E Quebradas.mp3
10 – Da Ponte Pra Cá.mp3
./RACIONAIS 2008:
Faixa 1010.mp3
Faixa 101.mp3
Faixa 1111.mp3
Faixa 1212.mp3
Faixa 202.mp3
Faixa 303.mp3
Faixa 404.mp3
Faixa 505.mp3
Faixa 606.mp3
Faixa 707.mp3
Faixa 808.mp3
Faixa 909.mp3
./Ta na chuva:
Artigo 157 Nova Versão.mp3
Canto de Oração e Oya.mp3
Mãos.mp3
Mãos Remix.mp3
Mulher Eletrica.mp3
O inimigo é de graça.mp3
O Jogo e Hoje.mp3
Quem procura acha.mp3
Ta na Chuva.mp3