100% Brazil! 100% Samba! 100% Datalove!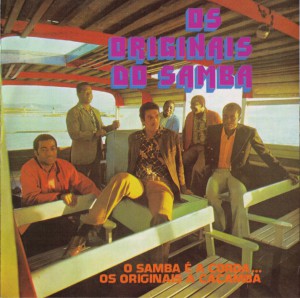 Os Originais do Samba is a Brazilian band formed in the 60s by members of samba school. They played with giants of Brazilian music such as Baden Powell or Jorge Ben.
This compilation (14 albums, 173 tracks) of their full (?) discography, found in the streets of São Paulo, from the late 60s to the 90s, is a very nice and warm dose of Brazilian samba. Muito bom datalove! <3
bought for 5 Reals (1.6€) on Praça Roosevelt in São Paulo.
More-or-less random playlist:

Track Listing:
1969 – Originais do Samba – 1969
1970 – Os Originais do Samba – Samba é de Lei (1970)RCA
1971 – Os Originais do Samba – 1971 – Exportação
1972 – O Samba E¦ü A Corda…Os Originais A Cacamba [1972 RCA]
1973 – Os Originais do Samba – É Preciso Cantar (1973)RCA
1975 – Originais Do Samba – Alegria de sambar
1976 – os originais do samba – Em Verso e Prosa (1976)RCA
1976 – OS ORIGINAIS DO SAMBA_PRA QUE TRISTEZA_1976
1977 – Originais do Samba – 1977 – Os bons sambistas vão voltar
1979 – os originais do samba – Clima Total (1979)RCA
1986 – Os Originais do Samba_A Malandragem Entrou Em Greve [1986]
1989 – Originais do Samba -Sangue, Suor e Samba (1989)
1994 – os originais do samba – A Vida é Assim (1994)
Originais do Samba – Tempo de Originais
Os Originais do Samba.jpg
Thumbs.db
./1969 – Originais do Samba – 1969:
01 – Cadê Tereza.mp3
02 – O Rapaz do Violão.mp3
03 – Enlouqueci.mp3
04 – No Morro É Assim.mp3
05 – Bacubufo no Caterefofo.mp3
06 – Despertar do Lavrador.mp3
07 – Sei Lá Mangueira.mp3
08 – Domingo da Rosa.mp3
09 – Larga do Meu Pé, Reumatismo.mp3
10 – Não Ganha Se Não Quiser.mp3
11 – Conto Chorado.mp3
12 – Até Meu Final.mp3
./1970 – Os Originais do Samba – Samba é de Lei (1970)RCA:
01 – Os Originais do Samba – Tá chegando fevereiroRe1.mp3
02 – Os Originais do Samba – Vestido brancoRe1.mp3
03 – Os Originais do Samba – O segundo caraRe1.mp3
04 – Os Originais do Samba – Canta comigoRe1.mp3
05 – Os Originais do Samba – Rio de Janeiro ( um samba só não dá )Re1.mp3
06 – Os Originais do Samba – Perdão com dignidadeRe1.mp3
07 – Os Originais do Samba – É de leiRe1.mp3
08 – Os Originais do Samba – Eu queria era ficar sambandoRe1.mp3
09 – Os Originais do Samba – Todo o morro acordouRe1.mp3
10 – Os Originais do Samba – O bem e o malRe1.mp3
11 – Os Originais do Samba – Para elaRe1.mp3
12 – Os Originais do Samba – SambistaRe1.mp3
Os Originais do Samba, back.jpg
Os Originais do Samba, front, cd size.jpg
Os Originais do Samba, front.jpg
samba-e-a-lei cópia.jpg
Thumbs.db
./1971 – Os Originais do Samba – 1971 – Exportação:
A1 Uma praça e você.mp3
A2 A subida do morro.mp3
A3 Linha de umbanda.mp3
A4 Tudo é alegria.mp3
A5 Amarrei meu bode.mp3
A6 A fé remove montanhas.mp3
B1 Tenha fé pois amanhã um lindo dia vai nascer.mp3
B2 Mas que menininha.mp3
B3 Brasileiro.mp3
B4 Simplesmente.mp3
B5 Samba internacional.mp3
B6 Oh! Bela.mp3
B7 Demonstração.mp3
DSC06070.JPG
Thumbs.db
./1972 – O Samba E¦ü A Corda…Os Originais A Cacamba [1972 RCA]:
01 Do Lado Direito Da Rua DireitaRe1.mp3
02 Catimba CrioloRe1.mp3
03 Ciranda, Cirandeia (Recife Em Dia De Festa)Re1.mp3
04 Esperanc¦ºas PerdidasRe1.mp3
05 Cravos E RosasRe1.mp3
06 As Tre¦és CapitaisRe1.mp3
07 Eu Vou Pagar Para VerRe1.mp3
08 Tchuna Marucaiao¦éRe1.mp3
09 Boi Bumba¦üRe1.mp3
10 E La¦ü Se Va¦âo Meus AneisRe1.mp3
11 TerezaRe1.mp3
12 La¦ü Vem SalgueiroRe1.mp3
13 A Volta Do PonteiroRe1.mp3
O Samba E¦ü A Corda…Os Originais A Cacamba [1972 RCA] A.jpg
O Samba E¦ü A Corda…Os Originais A Cacamba [1972 RCA] B.jpg.jpg
Thumbs.db
./1973 – Os Originais do Samba – É Preciso Cantar (1973)RCA:
01 – Os Originais do Samba – É preciso cantar.mp3
02 – Os Originais do Samba – Casca do cóco.mp3
03 – Os Originais do Samba – Saudosa maloca.mp3
04 – Os Originais do Samba – Você esqueceu.mp3
05 – Os Originais do Samba – Frevo do saberé.mp3
06 – Os Originais do Samba – Ultima folia.mp3
07 – Os Originais do Samba – Os sucessos de Erasmo e Roberto Carlos.mp3
08 – Os Originais do Samba – Ao velho poeta Pixinguinha.mp3
09 – Os Originais do Samba – Falador passa mal.mp3
10 – Os Originais do Samba – Mulher.mp3
11 – Os Originais do Samba – Ilusao maior.mp3
12 – Os Originais do Samba – Carnaval.mp3
Originais do Samba, back.jpg
Originais do Samba, front.jpg
Os Originais do Samba – É preciso cantar.m3u
Os originais do Samba.rtf
Thumbs.db
./1975 – Originais Do Samba – Alegria de sambar:
01 confidências de um sambista.mp3
02 calango do seo tibúrcio.mp3
03 pot-pourri de benito di paula.mp3
04 velhos tempos.mp3
05 o bom do lugar.mp3
06 É ouro só.mp3
07 de álcool ou poesia.mp3
08 cresça e apareça.mp3
09 a dona do primeiro andar.mp3
10 mexe-mexe.mp3
11 os cabras de lampião.mp3
12 vou tirar a roupa.mp3
13 mulher ingrata.mp3
14 as mariposas.mp3
15 no reino da mae do ouro.mp3
./1976 – os originais do samba – Em Verso e Prosa (1976)RCA:
10 – Herói sou eu.mp3
11 – Pombo correio.mp3
12 – Toca Nicanor.mp3
1 – Testamento de partideiro.mp3
2 – O caderninho.mp3
3 – Quem perde é que chora.mp3
4- Tem jeito de alegria.mp3
5 – Devaneio.mp3
6- Calangojongo.mp3
7 – Em verso e prosa.mp3
8 – Gibóia comeu boi.mp3
9 – Jogo numerado.mp3
OODS.jpg
Thumbs.db
./1976 – OS ORIGINAIS DO SAMBA_PRA QUE TRISTEZA_1976:
01 – Saudade e Flores.mp3
02 – Samba do Arnesto.mp3
03 – Cabeca que nao tem Juizo.mp3
04 – Tragedia no Fundo do Mar.mp3
05 – Pra que Tristeza.mp3
06 – Mulata Faceira.mp3
07 – Boato.mp3
08 – Canto de Amor.mp3
09 – Buchicho.mp3
10 – Complicacao.mp3
11 – Quem me Dera.mp3
12 – Nao sei de Nada.mp3
CapaLPBack.jpg
CapaLPFront.jpg
Folder.jpg
Thumbs.db
./1977 – Originais do Samba – 1977 – Os bons sambistas vão voltar:
Originais do Samba – 01.Vou levando meu canto.mp3
Originais do Samba – 02.Ave Maria do Salgueiro.mp3
Originais do Samba – 03.Só quem cantou fui eu.mp3
Originais do Samba – 04.Arrependimento.mp3
Originais do Samba – 05.Alucinação.mp3
Originais do Samba – 06.Contraiedade.mp3
Originais do Samba – 07.Nego Véio Quando Morre.mp3
Originais do Samba – 08.Os Bons Sambistas Vão Voltar.mp3
Originais do Samba – 09.Batuqueiro.mp3
Originais do Samba – 10.Rabo de saia.mp3
Originais do Samba – 11.Eu Agradeço.mp3
Originais do Samba – 12.Cachaça no Tanque.mp3
./1979 – os originais do samba – Clima Total (1979)RCA:
A1 – Mundo De Paz.mp3
A2 – Mané Marcou, Dancou.mp3
A3 – Cade Maria.mp3
A4 – Malango Be.mp3
A5 – Na Mesma Rua.mp3
A6 – O Amor Nascera Depois.mp3
B1 – Bebedeira do Zé.mp3
B2 – Sandalia da Nega.mp3
B3 – Baile Familiar.mp3
B4 – Massagem.mp3
B5 – A Volta Da Sorte.mp3
B6 – Rio Antigo.mp3
./1986 – Os Originais do Samba_A Malandragem Entrou Em Greve [1986]:
01 volta coraçãoRe1.mp3
02 a malandragem entrou em greveRe1.mp3
03 brasil cabocloRe1.mp3
04 o gansoRe1.mp3
05 bate, machuca o véioRe1.mp3
06 sinal de vidaRe1.mp3
07 ritmistaRe1.mp3
08 gaivotaRe1.mp3
09 esqueleto folgadoRe1.mp3
10 falsos bacanasRe1.mp3
11 jogo numeradoRe1.mp3
12 sanduiche de artistasRe1.mp3
capa.jpg
Thumbs.db
./1989 – Originais do Samba -Sangue, Suor e Samba (1989):
01 O rei da cocada preta.mp3
02 Luz do infinito.mp3
03 Nega do cabelo sanfonado.mp3
04 Samba do crioulo doido.mp3
05 Nega.mp3
06 Seleção 90.mp3
07 Festival na TV.mp3
08 Vou mudar de amor.mp3
09 Alegrias de domingo.mp3
10 Trem das onze.mp3
11 O poeta falou (Zona Leste Somos Nós) – Caymmi mostra ao m.mp3
./1994 – os originais do samba – A Vida é Assim (1994):
A1 – a vida é assim (J.Cruz).mp3
A2 – óh que saudade (bedeu-Alexandre).mp3
A3 – deixa eu poder te amar (Sócrates).mp3
A4 – de corpo e alma (Sócrates).mp3
A5 – se ela me chamar (Tivas-Rocky).mp3
B1 – reconciliação (Maurinho da Mezzei-Joãozinho Carnavalesco).mp3
B2 – tá na hora (Bedeu).mp3
B3 – não vá amor (Cezar Rodrigues).mp3
B4 – sexy irmanjá (Pepeu Gomes).mp3
B5 – cara a cara (Rocky-Cosmo).mp3
back.jpg
frente.jpg
Thumbs.db
./Originais do Samba – Tempo de Originais:
Originais do Samba – A corda e a caçamba.mp3
Originais do Samba – Arrependimento.mp3
Originais do Samba – Bate Barriga.mp3
Originais do Samba – Boato.mp3
Originais do Samba – Buchicho.mp3
Originais do Samba – Casa de Bamba.mp3
Originais do Samba – Falador passa mal.mp3
Originais do Samba – Filosofia de quintal.mp3
Originais do Samba – Jogo Numerado.mp3
Originais do Samba – Lá se vão meus aneis.mp3
Originais Do Samba – Mulher.mp3
Originais do Samba – O ouro e a madeira.mp3
Originais do Samba – O trem das onze.mp3
Originais do Samba – Pretinha (Vinil).mp3
Originais do Samba – Reunião De Bacana.mp3