100% CDR, 100% mp3, 100% Datalove!
Merengue! Merengue! Merengue! Ritmos freneticos! Muy bailable y muy caliente!
Of Dominican Republic origin, these rythms very popular in Latin America will blow your mind!
Very diverse compilation (72 tracks) by DJ Shark (apparently emblematic figure of mp3 compilations in Mexico City!) High voltage, completamente loco!
Found for 5 pesos (0.40US$) near Mercado La Merced in Mexico City.
<3 Indicative Playlist: [playlist ids="298,302,300,301,303"] [caption id="attachment_143" align="alignleft" width="600"]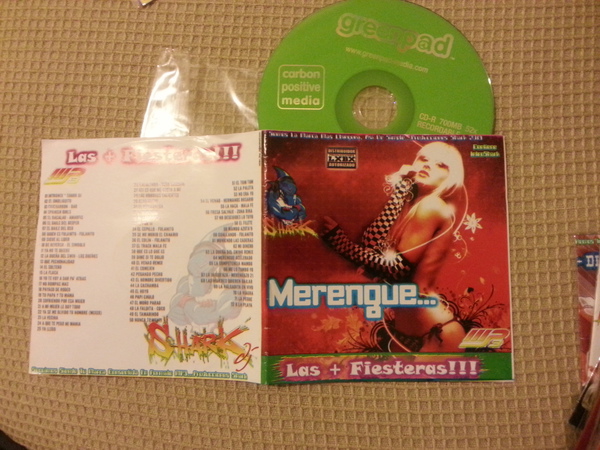 Merengue – Las + Fiesteras – DJ Shark[/caption]



Track List:
00 intromix shark.mp3
02 El ombliguito.mp3
03 chicharron – dar.mp3
04 spanish girls.mp3
05 el bacalao – amarfis.mp3
06 El baile del beeper.mp3
07 El baile del oso.mp3
08 Quien es fulanito – Fulanito.MP3
09 sigue al lider.mp3
10 de reversa – el simbolo.mp3
11 Ya no te quiere.mp3
12 la dueña del swin – los dueños.mp3
13 que pechonalidad.mp3
14 El soltero.mp3
15 La flaca.mp3
16 Yo te voy a dar pa' atras.MP3
17 no rompas mas.mp3
18 payaso de rodeo.mp3
19 tu papa y tu mama.mp3
20 sufriendo por esa mujer.mp3
21 A mi mujer le doy todo.MP3
22 Ya se me olvido tu nombre (mixeo).mp3
23 La Vecina.mp3
24 A que te pego mi mania.mp3
25 Ya llego.MP3
26 kulikitaka – toño rosario.mp3
27 Asi es que me gusta a mi.mp3
28 Los hombres calientes.mp3
29 Algo nuevo.MP3
30 El manganzón.mp3
31 Ta'Encendio.mp3
32 El Cantinero.mp3
33 El por ti.MP3
34 El cepillo – Fulanito.MP3
35 Se me murio el canario.mp3
36 El colìn – Fulanito.MP3
37 el track mala fe.mp3
38 Que es lo que es.mp3
39 Dime si te dolio.MP3
40 El venao remix.mp3
41 El comejen.mp3
42 Pegando pecho.mp3
43 El hombre divertido.mp3
44 La cachamba.mp3
45 El hoyo.MP3
46 Papi chulo.MP3
47 El moño parao.mp3
48 la faldita – coco.mp3
49 El tamarindo.mp3
50 Nunca te menti.mp3
51 El tom tom.mp3
52 La Paleta.mp3
53 No era yo.MP3
54 el venao – hermanos rosario.mp3
55 la vaca – mala fe.mp3
56 fresa salvaje – zona rika.mp3
57 No descuides lo tuyo.mp3
58 El filete.MP3
59 Mambo azota'o.MP3
60 guallando – fulanito.mp3
61 Moviendo las caderas.mp3
62 Mi dinero.MP3
63 La dueña del swing remix.mp3
64 Merengue acelerado.mp3
65 La competencia mambo.MP3
66 Me lo tumbo yo.MP3
67 la influenza – merengazo 21.mp3
68 Las mujeres quieren bailar.mp3
69 La nalgadita En Vivo.mp3
70 La Viagra.mp3
71 La pegue.mp3
72 A la playa.mp3