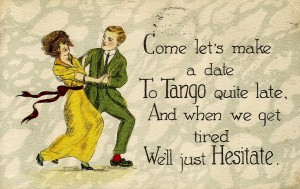 Tango is this very peculiar music and dance originating from Rio de la Plata, at the border between Argentina and Uruguay. Very peculiar because influenced mostly by colonial and European sounds and harmonics, originating in great part from Italian immigrants, with characteristic instruments such as the bandoneon.
It's 2/4 rythm is still extremely popular and very much danced in Buenos Aires and in many other parts of the world.
Its lyrics are often outrageously romantic and tragic. Tango is about life and death, love and indifference, joy and pain.
This quite exhaustive compilation (170 tracks), despite a few tracks being garbled (with an annoying "tic! tic! tic!.." noise superposed sometimes by the end of the track :/ …the modern equivalent of the scratches of vinyls?) contains tracks from "Kings" of Tango (Gardel, Camaro, El Caballero Gaucho, but no Piazzola!) but also much -apparently- rarer pieces. <3
bought for 3.000 Pesos (1.5US$) on Carrera7 in Bogota, Colombia.
Not exactly random playlist:

Track Listing:
001_SANGRE MALEVA.mp3
002_002_ALFREDO_DE_ANGELIS___OBSESI.mp3
003_003_ENTRE_TU_AMOR_Y_TU_AMOR_JUA.mp3
004_004_TANGO___ILUSION_AZUL.mp3
005_005_ALFREDO_DE_ANGELIS___LAGRIM.mp3
006_006_TANGO___JORNALERO.mp3
007_007_10.mala suerte–228.mp3
008_008_JULIO_SOSA___CAMBALACHE.mp3
009_009_LEJOS_DE_TI_RAUL_GARCES.mp3
010_010_GARUFA_AGUSTIN_IRUSTA.mp3
011_011_TANGO___SO_AR_Y_NADA_MAS.mp3
012_012_UN_TROPEZON_ENRIQUE_RODRIGU.mp3
013_013_TANGO___FRIVOLIDAD.mp3
014_014_OSCAR_LARROCA___PORQUE_ME.mp3
015_015_EL_CABALLERO_GAUCHO___BARAT.mp3
016_016_ENRIQUE_RODRIGUEZ___LA_GAYO.mp3
017_017_NAT_KING_COLE___ACERCATE_MA.mp3
018_018_JUAN_D__ARIAZO___Y_TE_PAREC.mp3
019_019_PEPE_AGUIRRE___CON_TODO_EL_.mp3
020_020_TANGO___LA_CUMPARCITA__BAIL.mp3
021_021_TANGO___ADIOS_AMOR.mp3
022_022_CARLOS_GARDEL___TANGO___CAM.mp3
023_023_TANGO___EL_MUCHACHO_CALAVER.mp3
024_024_CARLOS_GARDEL___TANGO___MEL.mp3
025_025_IGNACIO_CORCINI___PEDACITO_.mp3
026_026_NAT_KING_COLE___YO_VENDO_UN.mp3
027_027_EL_CABALLERO_GAUCHO___DESDE.mp3
028_028_HECTOR_VARELA___ALLA_EN_EL_.mp3
029_029_ADORACION_RODOLFO_BIAGGI.mp3
030_030_PORFIDIO_DIAZ___VIEJO_SAN_D.mp3
031_031_EDGARDO_DONATO___EL_HURACAN.mp3
032_032_MIGUEL_CALO____CADA_DIA_TE_.mp3
033_033_EL_CABALLERO_GAUCHO___VIEJO2.mp3
034_034_EL_CABALLERO_GAUCHO___LA_CA.mp3
035_035_JORGE_VALDEZ___UN_FANTASMA.mp3
036_036_SONIA__ENRIQUE_RODRIGUEZ.mp3
037_037_RA_L_BERON___QUE_SOLO_ESTOY.mp3
038_038_HUGO_DEL_CARRIL___EN_UN_BOS.mp3
039_039_CARLOS_GARDEL___TANGO___MAL.mp3
040_040_FRANCISCO_CANARO___PELEA_DE.mp3
041_041_HUGO_DEL_CARRIL___EL_ADIOS.mp3
042_042_EL_CABALLERO_GAUCHO___BESOS.mp3
043_043_JULIO_MARTEL___CHORRA.mp3
044_044_NAT_KING_COLE___CACHITO.mp3
045_045_QUE_NADIE_SE_ENTERE_ALFREDO.mp3
046_046_NAT_KING_COLE___SOLAMENTE_U.mp3
047_047_IGNASIO_CORSINE___NO_TE_APU.mp3
048_048_HUGO_DEL_CARRIL___EL_DIA_QU.mp3
049_049_NAT_KING_COLE___EL_CHOLO.mp3
050_050_MARIA_BUSTOS___ME_HAN_PROHI.mp3
051_051_IGUAL_QUE_UNA_SOMBRA_RICARD.mp3
052_052_ALFREDO_DE_ANGELIS___LA_LIM.mp3
053_053_TANGO___CASAS_VIEJAS.mp3
054_054_HUGO_DEL_CARRIL___CONFESI_N.mp3
055_055_EL_CABALLERO_GAUCHO___NEGRI.mp3
056_056_RONDANDO_TU_ESQUINAENRIQUE_.mp3
057_057_EL_CABALLERO_GAUCHO___CHINA.mp3
058_058_CARLOS_GARDEL___TANGO___ARR.mp3
059_059_EL_CABALLERO_GAUCHO___LEJOS.mp3
060_060_EL_CABALLERO_GAUCHO___OCULT.mp3
061_061_RAUL_BERON___TRANSNOCHADO.mp3
062_062_CARLOS_GARDEL___TANGO___MAN.mp3
063_063_QUE_FALTA_QUE_ME_HACES_ANDR.mp3
064_064_OSCAR_LA_ROCA___CAMINITO.mp3
065_065_ALFREDO_DE_ANGELIS___LA_PAS.mp3
066_066_ENRIQUE_RODRIGUEZ___DERROTA.mp3
067_067_ORQ_TIPICA_DE_TOKIO___LA_UL.mp3
068_068_TANGO___ENOJO.mp3
069_069_ALBERTO_GOMEZ____UN_TANGO.mp3
070_070_CARLOS_GARDEL___TANGO___POR.mp3
071_071_MIGUEL_CALO___NADA.mp3
072_072_CARLOS_GARDEL___TANGO___LA_.mp3
073_073_EL_CABALLERO_GAUCHO___AMORE.mp3
074_074_M_GOLDOERG___TANGO_FOX___CO.mp3
075_075_ANDRES_FALGA___EL_CIELO_Y_T.mp3
076_076_ARMANDO_MORENO___SE_VA_EL_T.mp3
077_077_CHARLO_Y_ADA_FALCON___COSAS.mp3
078_078_CARLOS_GARDEL___TANGO___CUE.mp3
079_079_CARLOS_GARDEL___TANGO___LOS.mp3
080_080_NAT_KING_COLE___NOCHE_DE_RO.mp3
081_081_CARLOS_DANTE___LA_CUMPARCIT.mp3
082_082_JUAN_DE_ARIENZO___LA_BRUJA.mp3
083_083_EL_CABALLERO_GAUCHO___ESOS_.mp3
084_084_TANGO___ENTRE_TU_AMOR_Y_MI_.mp3
085_085_OSCAR_LARROCA___SOY_UNA_FIE.mp3
086_086_CARLOS_GARDEL___TANGO___MIL.mp3
087_087_EL_CABALLERO_GAUCHO___TAMBO.mp3
088_088_ALFREDO_DE_ANGELIS___CIEN_G.mp3
089_089_TANGO___ZAPATOS_ROTOS__FOX_.mp3
090_090_MIGUEL_CARO___A_MEDIA_LUZ.mp3
091_091_CARLOS_GARDEL___TANGO___MI_.mp3
092_092_NOCHE_DE_ABRIL_ALBERTO_GOME.mp3
093_093_S_VIETRI___TANGO_FOX___BAIL.mp3
094_094_07.esta noche–225.mp3
095_095_CARLOS_GARDEL___TANGO___VOL3.mp3
096_096_CARLOS_GARDEL___TANGO___LO_.mp3
097_097_EL_CABALLERO_GAUCHO___VIEJO.mp3
098_098_AGUSTIN_MAGALDI___MIS_DELIR.mp3
099_099_CARLOS_GARDEL___TANGO___VOL2.mp3
100_100_FUERON_TRES_A_OS_ARGENTINO_.mp3
101_101_GODOY_MACINI___TORTAZOS_MIL.mp3
102_102_IDILIO_TRUNCO_CUARTETO_LEO.mp3
103_103_TANGO___DILEMA.mp3
104_104_EL_CABALLERO_GAUCHO___FAROL.mp3
105_105_PEPE_AGUIRRE___LA_COLEGIALA.mp3
106_106_FRANCISCO_CANARA___CUARTITO.mp3
107_107_MANCINE_Y_GODOY___MILONGA_C.mp3
108_108_NAT_KING_COL___ANSIEDAD.mp3
109_109_CARLOS_GARDEL___TANGO___AMO.mp3
110_110_M_GARCIA___TANGO_FOX___MIS_.mp3
111_111_ORQUESTA_TIPICA_ARGENTINA__.mp3
112_112_JUAN_PULIDO___LADRILLO.mp3
113_113_FRANCISCO_CANARO___SE_DICE_.mp3
114_114_TABERNERO_ORQUESTA_ARGENTIN.mp3
115_115_AGUSTIN_MAGALDI___CONSEJO_D.mp3
116_116_TANGO___SE_TE_NOTA_EN_LOS_O.mp3
117_117_ERNESTO_FAMA___AMEMONOS.mp3
118_118_TANGO____VALS_.mp3
119_119_TANGO___PISTA_23.mp3
120_120_LO_VI_EN_TUS_OJOS_CARLOS_DA.mp3
121_121_EL_SUE_O_DEL_PIBE_RICARDO_T.mp3
122_122_ALFREDO_DE_ANGELIS___QUIEN_.mp3
123_123_PEPE_AGUIRRE____HOJAS_DE_CA.mp3
124_124_EL_CABALLERO_GAUCHO___AMOR_.mp3
125_125_NAT_KING_COLE___PERFIDIA.mp3
126_126_OSCAR_LA_ROCA___TODAVIA_TE_.mp3
127_127_CARLOS_GARDEL___TANGO___MAD.mp3
128_128_JULIO_MARTEL___QUEMA_ESAS_C.mp3
129_129_R_DOLCI___TANGO_FOX___EN_EL.mp3
130_130_EL_CABALLERO_GAUCHO___MI_MA.mp3
131_131_ROBERTO_GARDE___TANGO_FOX__.mp3
132_132_FRANCISCO_CANORO___INSPIRAC.mp3
133_133_HUGO_DEL_CARRIL___LUNA_DE_A.mp3
134_134_RECONCILIEMONOS_PEPE_AGUIRR.mp3
135_135_MERCEDES_SIMON___NEGRA_MARI.mp3
136_136_CARLOS_GARDEL___TANGO___SIL.mp3
137_137_JORGE_VALDEZ____PERCAL.mp3
138_138_TANGO___TROPEZON.mp3
139_139_MARIANO_MORES___EL_FIRULETA.mp3
140_140_JOSE_BASSO___LA_FULANA_MILO.mp3
141_141_13. no me preguntes por que–231.mp3
142_142_EL_CABALLERO_GAUCHO___IDILI.mp3
143_143_ARMANDO_MORENO___FALTA_MONE.mp3
144_144_SERGIO_FERNANDEZ___TANGO_FO.mp3
145_145_NAT_KING_COLE___QUIZAS__QUI.mp3
146_146_ALFREDO_DE_ANGELIS___QUE_NA.mp3
147_147_EL_CABALLERO_GAUCHO___FLOR_.mp3
148_148_EL_CABALLERO_GAUCHO___ETAPA.mp3
149_149_RODOLFO_BIAGGI___A_LA_LUZ_D.mp3
150_150_OSCAR_LARROCA___MEDALLITA_D.mp3
151_151_ALFREDO_DE_ANGELIS___ILUSI_.mp3
152_152_NAT_KING_COLE___TE_QUIERO_D.mp3
153_153_CARLOS_GARDEL___TANGO___EL_.mp3
154_154_EL_CABALLERO_GAUCHO___CUAND.mp3
155_155_TANGO___SI_SUPIERAS.mp3
156_156_FRANCISCO_CANARA___POR_VOZ_.mp3
157_157_HECTOR_VARELA___QUE_TARDE_Q.mp3
158_158_RODOLFO_BIAGI___CIELO.mp3
159_159_TANGO____VALS_BUENO_.mp3
160_160_HUGO_DEL_CARRIL___LA_CUMPAR.mp3
161_161_ARMANDO_MORENO___NOCHES_DE_.mp3
162_162_JULIO_SOSA___RENCOR.mp3
163_163_HUGO_DEL_CARRIL___ADIOS_PAM.mp3
164_164_REMEMBRANZAJUAN_DARIENZO.mp3
165_165_GOMEZ_Y_VILLA___LLORO_EL_GA.mp3
166_166_TANGO___VOLVAMOS_A_EMPEZAR.mp3
167_167_AGUSTIN_MAGALDI___AFILADOR.mp3
168_168_PAYASO_PEPE_AGUIRRE.mp3
169_169_NAT_KING_COLE___MARIA_HELEN.mp3
170_170_FRANCISCO_CANARO___LAS_CUAR.mp3