Cumbia Peñonera comes from Peñòn de los Baños, close from the main airport of Mexico, which is apparently, along with Tepito, the second birthplace of cumbia sonidera.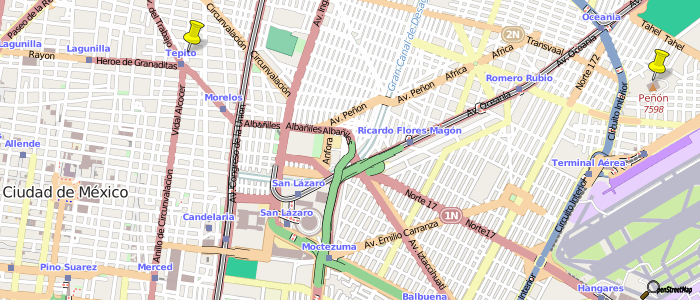 Although the two places are relatively close, Cumbia Peñonera sounds quite differently from the rest: More cheerful tracks, sounding more like the costal cumbia from Colombia, with much afro-carribean influence. It contains also lots of Gaitas (flute-based cumbias), Guarrachas (slower, slowed-down, "rebajadas" tracks) and some Salsa tracks.
An excellent, very relaxed, fun and muyyyy bailable compilation (150 tracks) by amazing Shark DJ ("Hecho en Tepito, la fabrica de las ideas, Shark New").
bought for 10 pesos (approx 0.8 US$) in Taxqueña, Mexico D.F.
Not-random playlist:




Track Listing:
002 ABUELITA combo de enrique salas.mp3
003 LA FILOMENA.mp3
004 LA GUARAPERA.mp3
005 EL NEGRITO DE LA SALSA.mp3
006 PA PUERTO RICO.MP3
007 LA GUARACHA DEL TREN.mp3
008 SUENA LA TIMBA.mp3
009 LAS MUJERES NO SE ACABAN.mp3
00 intro CUMBIAS PEÑONERAS.mp3
010 LA GUARACHA DEL PANADERO.mp3
011 RUMBA MACOSA.mp3
012 ESCUCHA EL CONSEJO.mp3
013 acordeones.mp3
014 Aguita santa.mp3
015 BAILALO COMO QUIERAS.mp3
016 BEMBELECUA 2 P.mp3
017 bim bam bum.mp3
018 CHARANGA EN LA PLAYA P.mp3
019 cheveron.mp3
020 CIELITO LINDO.mp3
021 corazon solitario.mp3
022 Cumbia con violines.mp3
023 CUMBIA DE LOS KISS (yo soy juan valdes) cuerda del caribe.mp3
024 Cumbia del eden.mp3
025 CUMBIA DEL PUERTO gildardo montoya.mp3
026 cumbia dora.mp3
027 CUMBIA SANTANDERIANA gustavo rey y los magos del ritmo.mp3
028 del indio nacio la cumbia.mp3
029 Dulce amor.mp3
030 EL CHUCHAQUI un corte.mp3
031 el dengue de los compadres.mp3
032 El inglesito.mp3
033 EL MECHON gaita.mp3
034 EL REY DE LA CUMBIA son cartagena.mp3
035 Ese amor.mp3
036 GAITA CURRUTA (alfredo gutierrez).mp3
037 GUAGUANCO P' BORINQUEN.mp3
038 GUARACHA DEL DIABLO.mp3
039 GUARACHA SABROSONA.mp3
040 LA 2a DE MAICAO.mp3
041 la coqueta.mp3
042 la cumbia morena.mp3
043 La diosa de los llanos.mp3
044 LA GAITA VALLEDUPAR cuquis.mp3
045 la hosa.mp3
046 La ley poderosa.mp3
047 La mulata.mp3
048 LA RABIOSA.mp3
049 LA SOBADERA-la sonora cordobesa.mp3
050 lagrimas.MP3
051 LLANTO.MP3
052 los acordiones de la migela.mp3
053 maruja.mp3
054 Mi camisa.mp3
055 MI RUMBA CHA, CHA ,CHA.mp3
056 AGUARDIENTE Y RON.mp3
057 ARREPENTIDO los mayorales.mp3
058 BARRIO BUENO.mp3
059 BIJOTON.mp3
060 CHAMBACU.MP3
061 Charangano yemaya.mp3
062 Coco seco.mp3
063 Cuida tu novia.mp3
064 CUMBIA DE JUDITH sonora costeña.mp3
065 Cumbia del arrabal.mp3
066 CUMBIA DEL SOMBRERON conjunto.mp3
067 Cumbia patria.mp3
068 Dias de vinos y rosas.mp3
069 El corpiño colorado.mp3
070 el mundo se acaba.mp3
071 Gaita no.1.mp3
072 GUARACHA POR TRADICION.mp3
073 La chicharrita de los llantos.mp3
074 la cumbia.mp3
075 La Garrobera.mp3
076 LA MARIGUANA – GUARACHAS.mp3
077 LA NEGRA EN LA PARADA.mp3
078 La revoltosa.mp3
079 las flores.mp3
080 MAQUIAVELO.mp3
081 mi pregon.mp3
082 NIÑA TRISTE.mp3
083 NO PODRAS ESCAPAR DE MI.MP3
084 OYE COMPADRITO.mp3
085 OYE YA – GUARACHAS.mp3
086 P' LA COLA.mp3
087 PA' LA PALOMA.mp3
088 pajaro picon.mp3
089 PARA QUE GOZEN P.mp3
090 Alumbra estrella.mp3
091 besos de fuego.mp3
092 CHARANGA.mp3
093 CUANDO NO ESTOY CON ELLA.mp3
094 Cumbia del cuervo.mp3
095 cumbia esteofonica.mp3
096 El carañon.mp3
097 Enamorada de un amigo mio.mp3
098 Guaracha de Acapulco.mp3
099 la cumbia de judith.mp3
100 La hossa.mp3
101 La pava congona.mp3
102 Lo mejor de hoy.mp3
103 Bailen cumbia.mp3
104 Chico vacilon.mp3
105 Cumbia del h24.mp3
106 El juicio.mp3
107 guiaracha-lo que traje de colombia.mp3
108 La millonaria.mp3
109 Mentiras.mp3
110 NO PARES LOS PIES – GUARACHAS.mp3
111 OYE MI TUMBA.mp3
112 YO SOY LA RUMBA.mp3
113 P' MARGARITA.mp3
114 PANCHO CRISTAL.mp3
115 QUE LINDO ES QUERERTE.mp3
116 que pequeño es el mundo.mp3
117 RITMO CANDELA.mp3
118 Rosa isabel.mp3
119 SACALE PUNTA AL LAPIZ.mp3
120 se volvieron locos.mp3
121 SONAJA Y TAMBOR.MP3
122 Suenan los tambores.mp3
123 TAN LINDA Y TAN BELLA.mp3
124 tibiri tabari.mp3
125 VEN A PUERTO RICO.mp3
126 Vienen las brujas.mp3
127 ZORBA EL GRIEGO pepe velasquez.mp3
128 borracho no vale.mp3
129 CUMBIA SONIDERA sonora dinamita.mp3
130 gaita cumbiando.mp3
131 LA VENADA grupo nevada.mp3
132 no te pertenece.mp3
133 PACHANGA EN LA PLAYA.mp3
134 Que muera el gavilan.mp3
135 RITMO CUBANO.mp3
136 Sangre india.mp3
137 SOY EL GUGUANCO.mp3
138 TE ESTAS QUEDANDO.mp3
139 VETE DE MI VIDA (las palmitas) sensacion latina.mp3
140 Cumbia de la paz y el amor.mp3
141 MUJER CELOSA.mp3
142 pasame la botella..mp3
143 RUMBERITO.mp3
144 EL DULCERITO.mp3
145 la gaita de la martin carrera.mp3
146 OYELO AHORA.mp3
147 Que quieres que haga.mp3
148 siboney.mp3
149 SUN SUN BABAE.mp3
150 uno solo.mp3