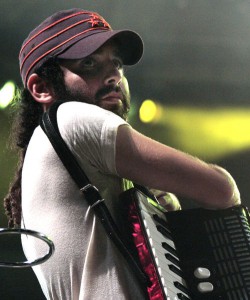 Calle 13, from Puerto-Rico, are apparently hyper-famous around Spanish-speaking Latin America. They produce fantastic hiphop since 2004-2005, and sound very much like militant citizens. Their Lyrics are often super-smart and/or funny and touch grave subjects. They also have impressive pop hits! <3
Calle13′ clear and modern sound is amazingly assembled, and mixes everything with everything! From Hiphop to Cumbia to Reggaeton rythms, etc.
Calle <3!
This compilation is supposed to be their full discography and contains 96 tracks, unfortunately not sorted by album (they apparently released 5), once again compiled by legendary Shark DJ ("en eme pe tres!").
Last 10 tracks seem to be remixes and collaborations with -among others- some of the vibrant electronic scene of Buenos-Aires (Villa Diamante, El Remollon from ZZK records).
bought for 10 Pesos (approx 0.66€) on some mercado in the South of Mexico D.F.
Partially random playlist: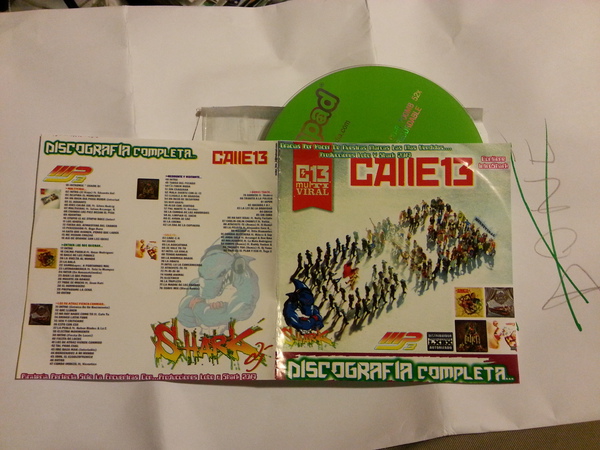 Track Listing:
01 INTROMIX.mp3
02 INTRO (El Viaje) ft. Eduardo Gal.mp3
03 RESPIRA EL MOMENTO.mp3
04 UN BUEN DIA PARA MORIR (Interlud.mp3
05 EL AGUANTE.mp3
06 OJOS COLOR SOL ft. Silvio Rodríg.mp3
07 MULTIVIRAL ft. Julian Assange, K.mp3
08 CUANDO LOS PIES BESAN EL PISO.mp3
09 ADENTRO.mp3
10 STUPID IS AS STUPID DOES (Interl.mp3
11 LOS IDIOTAS.mp3
12 FUERA DEL ATMOSFERA DEL CRANEO.mp3
13 PERSEGUIDO ft. Biga Ranx.mp3
14 GATO QUE AVANZA, PERRO QUE LADRA.mp3
15 ME VIERON CRUZAR.mp3
16 ASI DE GRANDE SON LAS IDEAS.mp3
17 INTRO.mp3
18 CALMA PUEBLO ft. Omar Rodríguez.mp3
19 BAILE DE LOS POBRES.mp3
20 LA VUELTA AL MUNDO.mp3
21 LA BALA.mp3
22 VAMO' A PORTARNOS MAL.mp3
23 LATINOAMERICA ft. Totó la Mompos.mp3
24 INTER (En Annunakilandia).mp3
25 DIGO LO QUE PIENSO.mp3
26 MUERTE EN HAWAII.mp3
27 TODO SE MUEVE ft. Seun Kuti.mp3
28 EL HORMIGUERO.mp3
29 PREPARAME LA CENA.mp3
30 OUTRO.mp3
31 INTRO (Crónica De Un Nacimiento).mp3
32 QUE LLOREN.mp3
33 NO HAY NADIE COMO TU ft. Cafe Ta.mp3
34 GRINGO LATIN FUNK.mp3
35 VEN Y CRITICAME.mp3
36 ESTO CON ESO.mp3
37 LA PERLA ft. Ruben Blades & La C.mp3
38 ELECTRO MOVIMIENTO.mp3
39 INTRO (Fiesta De Locos).mp3
40 FIESTA DE LOCOS.mp3
41 LOS DE ATRAS VIENEN CONMIGO.mp3
42 TAL PARA CUAL.mp3
43 IRIE RASA MAN (Interludio).mp3
44 BIENVENIDOS A MI MUNDO.mp3
45 JOHN, EL ESQUIZOFRENICO.mp3
46 OUTRO.mp3
47 COMBO IMBECIL ft. Vicentico.mp3
48 INTRO.mp3
49 TANGO DEL PECADO.mp3
50 LA FOKIN MODA.mp3
51 SIN EXAGERAR.mp3
52 MALA SUERTE CON EL 13.mp3
53 LLEGALE A MI GUARIDA.mp3
54 UN BESO DE DESAYUNO.mp3
55 UIYI GUAYE.mp3
56 ALGO CON-SENTIDO.mp3
57 PAL NORTE ft. Orishas.mp3
58 LA CUMBIA DE LOS ABURRIDOS.mp3
59 AL LIMPIAR EL SUCIO.mp3
60 EL AVION SE CAE.mp3
61 LA CREMA.mp3
62 LA ERA DE LA COPIAERA.mp3
63 CABE-C-O.mp3
64 SUAVE.mp3
65 LA AGUCATONA.mp3
66 SE VALE TO-TO.mp3
67 INTEL-LU AYALA.mp3
68 TENGO HAMBRE.mp3
69 LA HORMIGA BRAVA.mp3
70 LA JIRAFA.mp3
71 INTEL-LU LA COMERMIERDA.mp3
72 ATREVETE-TE-TE.mp3
73 PI-DI-DI-DI.mp3
74 VAMO ANIMAL.mp3
75 ELECTRICO.mp3
76 LA TRIPLETA.mp3
77 LA MADRE DE LOS ENANOS.mp3
78 SUAVE MIX (Blass Remix).mp3
79 GORDITA ft. Shakira.mp3
80 TRIBUTO A LA POLICIA.mp3
81 JAPON.mp3
82 QUERIDO F.B.I_.mp3
83 LA LEY DE LA GRAVEDAD.mp3
84 CRASH.mp3
85 SIN CORO.mp3
86 NO HAY IGUAL ft. Nelly Furtado.mp3
87 CHULIN CULIN CHUNFLY ft. Voltio_.mp3
88 ATREVETE-TE (Remix) ft. El Remol.mp3
89 LA PELEITA ft. Alejandro Sanz &_.mp3
90 MASHUP ft. Villa Diamantes.mp3
91 CUMBIA GLITCHERA ft. Mäuss & Sup.mp3
92 ANDA SOLA ft. Arcangel & Don Oma.mp3
93 MALASUERTE ft. La Mala Rodriguez.mp3
94 ROMPE (Remix) ft. Daddy Yankee &.mp3
95 TOCARTE TOA (Remix) ft. Dj Yamo.mp3
96 CUAL ES EL PLAN Y ESO ft. Tego C.mp3