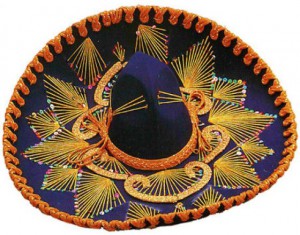 Of all the incredibly diverse musical genres found in Mexico, Rancheras is the closest to the common stereotype. Splendid orchestras de Mariachis with strings and amazing trumpets, incredible voices, fantastic singing, with lyrics often tragic and romantico total!
According to Wikip<3dia: "[Ranchera] dates to the years of the Mexican Revolution in the early 20th century. It later became closely associated with the mariachi groups which evolved in Jalisco. Ranchera today is also played by norteño (or Conjunto) or banda"
A lovely compilation (100 tracks) with a very retro charm and truly beautiful songs! <3
bought for 10 Pesos (approx 0.7€) en Metro CU, Mexico D.F.
Not exactly random playlist:




Track Listing:
002 México Lindo – Jorge Negrete.mp3
003 Esta Tristeza Mía – Javier Solís.mp3
004 Paloma Negra – Amalia Mendoza.mp3
005 La Negra Noche – Jorge Negrete Y Pedro Vargas.mp3
006 Reconciliación – Las Hermanitas Nuñez.mp3
007 El Jinete – Miguel Aceves Mejía.mp3
008 La Martina – Irma Serrano.mp3
009 Por Una Mujer Casada – Francisco Charro Avitia.mp3
00 INTRO clio las rancheras inolvidables.mp3
010 Cielo Rojo – David Záizar.mp3
011 Albur De Amor – Lola Beltrán.mp3
012 El pastor – MIGUEL ACEVES MEJIA.MP3
013 Al Ver Que Te Vas – Chayito Valdéz.mp3
014 Andale – Las Hermanas Padilla.mp3
015 Bala Perdida – Francisco 'charro' Avitia.mp3
016 Camino De Guanajuato – Luís Aguilar.mp3
017 Celosa – Eva Garza.mp3
018 Cien Años – Guadalupe Pineda.mp3
019 Crúz De Olvido – María De Lourdes.mp3
020 De Pies A Cabeza – Luís Aguilar.mp3
021 El Barzón – Luis Pérez Meza.mp3
022 El Mala Estrella – Luís Aguilar.mp3
023 El Preso No. 9 – Los Tres Caballeros.mp3
024 El Rey – José Alfredo Jiménez.mp3
025 Hace Un Año – Pedro Vargas Con Libertad Lamarque.mp3
026 La Malagueña – Trío Calaveras.mp3
027 La Negra Noche – Hermannas padilla.mp3
028 Las Noches Las Hago Dias – Mario Saucedo.mp3
029 Libro Abierto – Rocío Banquels.mp3
030 Llorar – Lucero.mp3
031 Los Laureles – Linda Ronstadt.mp3
032 Me Gusta Estar Contigo – Angélica María.mp3
033 Mi Segundo Amor – Victor 'piruli' Yturbe.mp3
034 Mil Noches – Los Cometas Del Norte.mp3
035 Nieves De Enero – Javier Solís.mp3
036 No Salgas Niña A La Calle – Trío Tariácuri.mp3
037 Oh Gran Dios – Miguel Aceves Mejía.mp3
038 Prieta Linda – Miguel Aceves Mejía.mp3
039 Rayando El Sol – Chavela Vargas.mp3
040 Retirada – Dueto Miseria.mp3
041 Rumbo Al Sur – Gerardo Reyes.mp3
042 Se Me Olvidó Otra Vez – Yolanda Del Río.mp3
043 Siempre Estoy Pensando En Tí – Lucía Méndez.mp3
044 Solo Dios – Jorge Negrete.mp3
045 Tampico Hermoso – Los Dos Reales.mp3
046 Te Parto El Alma – Fernándo De La Mora.mp3
047 Tres Días – Los Dos Reales.mp3
048 Tú Sólo Tú – Lupita Palomera Y Fernando Fdez.mp3
049 Un Puño De Tierra – Federico Villa.mp3
050 Veinte Años – Francisco Charro Avitia.mp3
051 Virgencita De Talpa – Matilde Sánchez.mp3
052 Amarga Navidad – Amalia Mendoza.mp3
053 Besándo La Crúz – Las Hermanas Padilla.mp3
054 Canción Mixteca – Pedro Vargas Y Miguel Aceves Mejía.mp3
055 Chapala – Mariachi Vargas De Tecatitlan.mp3
056 Con Golpes De Pecho – Yolanda Del Río.mp3
057 Cuatro Milpas – Aida Cuevas.mp3
058 Despacito – Pedro Fernández.mp3
059 El Chubasco 'Pero Hombre Amigo' – Carlos Y José.mp3
060 El Mil Amores – Miguel Aceves Mejía.mp3
061 El Quelite – Hermanos Záizar.mp3
062 Ella – Jorge Negrete.mp3
063 La Araña – Alicia Juárez.mp3
064 La Silla Vacia – Rosenda Bernal.mp3
065 Llorarás, Llorarás – Rocío Banquels.mp3
066 Mi Ciudad – Guadalupe Trigo.mp3
067 Mujeres Divinas – Martín Urieta.mp3
068 No Volveré – Estela Nuñez.mp3
069 Que Te Ha Dado Esa Mujer – Pedro Infante.mp3
070 Rogaciano – Miguel Aceves Mejía.mp3
071 Si Nos Dejan – José Alfredo Jiménez.mp3
072 Sufriendo A Solas – Amalia Mendoza.mp3
073 Tierra Sin Nombre – José Alfredo Jiménez.mp3
074 Un Cancionero Lloró – Alejando Rivera.mp3
075 Viva México – Pedro Vargas.mp3
076 Yo El Aventurero – Paco Michel.mp3
077 Amor Con Amor Se Paga – Jorge Negrete Y Pedro Vargas.mp3
078 Ay Chabela – Paco Michel.mp3
079 Cielito Lindo – Valente Pastor,Alberto Angel Y Humberto Cravioto.mp3
080 Echame A Mi La Culpa – Amalia Mendóza.mp3
081 El Querreque – Lucha Villa.mp3
082 La Media Vuelta – Marco Antonio Muñiz Y José Alfredo Jiménez.mp3
083 Mañanita – Lucha Reyes.mp3
084 No Discutamos – Lucha Villa.mp3
085 Respeta Mi Dolor – Marcela Galván.mp3
086 Sin Fortuna – Gerardo Reyes.mp3
087 Tú Sigues Siendo El Mismo – Angélica María.mp3
088 Ya No Me Interesas – Lucha Villa.mp3
089 Besos Y Copas – Chayito Valdéz.mp3
090 Cucurrucucú Paloma – Lola Beltrán.mp3
091 El Muchacho Alegre – Francisco Charro Avitia.mp3
092 Las Tres Huastecas – Nicandro Castillo.mp3
093 Por un amor – Lola beltran.mp3
094 Te He De Querer – Dueto Caleta.mp3
095 Cariño Nuevo – Estela Nuñez.mp3
096 El Hijo Del Pueblo – Jorge Negrete.mp3
097 Mi Tenampa – Pedro Infante.mp3
098 San Juan Del Rio – Chayito Valdéz.mp3
099 Una Sola Caída – Martin Y Malena.mp3
100 Con Mis Propias Manos – Javier Solís.mp3
101 Golondrina Presumida – Lola Beltrán.mp3